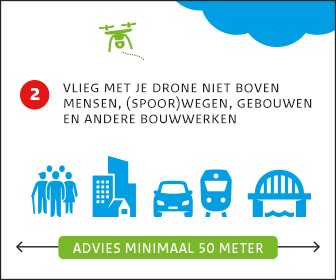 DJI Inspire 1 Pro
DJI, world leader in drones, proudly introduces the DJI Inspire 1 PRO as the ultimate camera drone. This new brother of the original Inspire 1 features a new and improved camera. The Inspire 1 Pro is equipped with a Zenmuse X5 camera. This camera uses the impressive micro 4/3 sensor and lens system for unparalleled quality. The Inspire family of drones features a special design, the carbon fiber legs lift up and down for unrestricted 360 degree video, and easy landing. The camera is not the only improvement, the landing gear, motors and propellers are also improved in the Inspire 1 Pro.
DJI pilot app
With the freely available DJI Go app you can control many of the Inspire 1 Pro's features and read out live information. You have control over all the camera settings from your smart device. This app also functions as the live video display. Information such as GPS, flightpath, battery status and health and many more telemetry is available. Another great feature is the built in auto-land option. DJI continuously develops the DJI go app and many new features are added in each release. 
Ready to fly 
The DJI Inspire 1 Pro is a complete package that's ready to use. Included are a strong case, remote, a battery and of course the DJI Inspire 1 PRO. The drone comes with several replacement parts standard, such as an extra set of propellers. So everything you need to start flying right away and capture incredible footage. 
The camera
The Inspire 1 Pro is equipped with the impressive Zenmuse X5 4k Camera with the Micro 4/3 sensor and lens mount.  The camera comes standard with an 15mm f/1.7 lens. On 4k quality this camera captures 30 frames per second,  also possible are 4096 x 2160 @ 24fps, 1920 x 1090 @ 60fps. Not only does it make great video, it also makes spectacular aerial photos. Pictures taken with the X5 are 16MP and offer great detail.
Live HD view
The DJI Inspire 1 Pro features live HD view. During flight you can view your camera stream live on your smart device in HD thanks to DJI's Lightbridge technology. DJI Lightbridge has a range of about 2 kilometer. With the supplied remote you can view this camera stream on your smart device or optional monitor over micro-hdmi.
Dual-operator control 
Most drones only feature one controller. With the Inspire 1 it is possible to connect two remotes, one for the pilot, and one for the camera operator. The pilot can fly the Inspire 1 Pro unhindered while the camera operator has full control over the camera and gimbal. 
Fly Indoors and Without GPS
Indoor flight has always been a true test of skill for all levels of pilots. DJI's new Optical Flow technology uses a specially designed camera as well as ultrasonic waves to bring simplicity to flying indoors. This technology allows the Inspire to hold its location, stop when the controls are released, and respond to your commands even when GPS is unavailable.
Smart Power Management System
A fully integrated smart battery powers your Inspire 1 Pro and virtually manages itself. When in flight, your remaining battery power is shown live, letting you know how long you can continue to fly. Advanced algorithms calculate the distance of your aircraft and estimated time to return home, letting you know when it's time to come back. The battery tracks the voltage of each cell, the total lifetime charges and discharges, and the overall health and battery status. All this helps you keep your Inspire 1 in the air and flying for years to come. The Inspire 1  Pro comes standard with the TB47 battery for 15 minutes of uninterrupted flight. With the optional TB48 battery that has a capacity of 5700mAh the flight time can be increased to 18 minutes.
Dynamical home point
When the remote has a GPS signal the home point will be automatically adjusted. This keeps the home point at the pilot. This feature is great for making moving dynamic shots from a vehicle or boat and always allows the Inspire 1 Pro to return to the operator instead of the point of take-off. 
Speed and height
The DJI Inspire 1  Pro has a maximum speed of 18 meters per second with no wind. This is almost 65 kilometers per hour(!). This makes the Inspire 1 Pro great for fast action shots. Take-off and landing happens a lot more controlled, with a take-off velocity of 5m/s and a descending speed of 4m/s. The maximum operation height of the DJI Inspire 1 Pro is 4500 meter above sea level. 
Case
The DJI Inspire 1 Pro comes standard with a very nice and sturdy transport  case. This case offers a lot of protection and has room for an array of optional accessories, such as two remotes, several batteries, a charger, camera and of course the Inspire 1 Pro.
 Specifications
AIRCRAFT
Model T600
Weight 2870 g (Battery and propellers included, Zenmuse X5 excluded) 
3400 g (Battery, propellers and Zenmuse X5 included)
Max Takeoff Weight 3500 g
Hovering Accuracy (P Mode) Vertical: 0.5 m
Horizontal: 2.5 m
Max Angular Velocity Pitch: 300°/s
Yaw: 150°/s
Max Tilt Angle 35°
Max Ascent Speed 5 m/s
Max Descent Speed 4 m/s
Max Speed 18 m/s (ATTI mode, no wind)
Max Service Ceiling Above Sea Level 4,500 m (Software altitude limit: 120 m above takeoff point)
Max Wind Speed Resistance 10 m/s
Max Flight Time Approxi. 15 minutes
Motor Model DJI 3510H
Propeller Model DJI 1345T
Indoor Hovering Enabled by default
Operating Temperature 14° to 104° F (-10° to 40° C)
Diagonal Distance 559 mm
GIMBAL
Name Zenmuse X5
Dimensions 120 (W) x 135 (H) x 140 (D) mm
Weight 530 g (Including original lens, balancing ring, lens hood, Micro SD card)
Operating Temperature 32° to 104° F (0° to 40° C)

CAMERA
Lens Replaceable lens 
M43 mount supporting auto-focus
Supported Lens DJI MFT 15mm f/1.7 ASPH
Panasonic Lumix G Leica DG Summilux 15mm f/1.7 ASPH
Olympus M.Zuiko Digital ED 12mm f/2.0
Olympus M.Zuiko 17mm f1.8 (Balancing ring will be available on the DJI Store soon)
Sensor Type 4/3 CMOS sensor
Effective Pixels 16 M
Max Resolution 4608x3456
ISO Range 100-25600
Electronic Shutter Speed 8 s-1/8000 s
Field of View DJI MFT 15mm f/1.7 ASPH 72°
Still Photography Modes Single shot 
Burst shooting:3/5/7 frames 
Auto Exposure Bracketing (AEB):3/5 bracketed frames at 0.7EV bias 
Timelapse (3/5/7/10/20/30/60 sec)
Video Resolution UHD:4K (4096×2160) 24/25p, 4K (3840×2160) 24/25/30p,2.7K (2704×1520) 24/25/30p;
FHD:1920×1080 24/25/30/48/50/60p
Max Video Bitrate 60 Mbps
Supported File Systems FAT32 (≤ 32 GB), exFAT (> 32 GB)
Photo Formats JPEG, DNG (Pro)
Video Formats MP4/MOV (MPEG-4 AVC/H.264)
Supported Storage Devices Class 10 or UHS-1 or above Micro SD cards
Max capacity of 64 GB